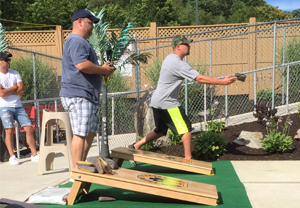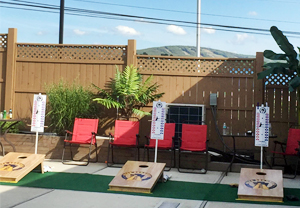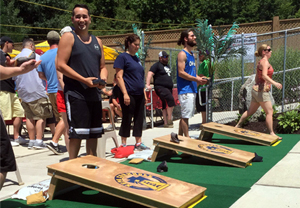 Want to play? Get in touch!Join a League
If you would like to join our league, sign up or contact us to find out more information.
Email
Phone
570-947-9426 T.J.
570-851-7903 Tony
Connect with us: 
NEPA Cornhole 
Join us as we will be hosting leagues and tournaments in the Scranton/Wilkes-Barre area with prizes for top teams in each event. All skill levels, gender, and ages welcome!
Corporate Events

Searching for an event to help employees build as a team?

Here at NEPA Cornhole we can create a unique, yet fun and competitive way of entertainment for your employees and colleagues. Cornhole is an activity for all ages and skill levels.
Email us at NepaCornhole@gmail.com for more information to hold an event for you,whether it's for business or fun! 
Fundraising
Want a non-traditional fundraising event or benefit?
Cornhole is a fun and competitive way to help fundraising and is for all skill levels and ages.
Let us at NEPA Cornhole help you create an organized and fun way to raise funds. 
Email us at NepaCornhole@gmail.com to learn more about what we can do for you.
Where To Buy
Contact
All Cornhole
ACL Elite, ACE, Pro, Duck Cloth, Perfect Series, Freshmakers, Limited Edition Bags, Slide-Rite
www.allcornhole.com
sales@utahcornhole.com
Bag Toss
Pro and Ultra Bags
www.bagtoss.com
info@bagtoss.com
Beer Belly Bags
Tournament, Pro, Speed, Performance, Black Jack Tournament, Old Style Speed
www.beerbellybags.com
beerbellybags@gmail.com
BG Boards and Graphics
BG Pro 450, BG Elite 450, BG Tailgator, BG Slickster, Checkmate, Slickster Control, Clutch, Supersonic
www.shopbgboards.com
sales@bgboards.com
Big Tex
Big Tex Pro 450, TCL Classic Series
www.texascornholeleague.com
chad@texascornholeleague.com
Blue Collar Cornhole
BCC Dirty , BCC Filthy, BCC Nasty
www.facebook.com/bluecollarcornhole
Bluecollarcornhole@gmail.com
Board Men Cornhole
Pro Performance, Pro, Max Pro, MAXnificient
www.boardmencornhole.com
info@boardmencornhole.com
Brett's Cornhole Boards & Bags
All Tournament, Pro Tournament
www.facebook.com/BrettsCornholeBoards
Brettscornholeboards@gmail.com
Can U Toss
Can U Toss
www.facebook.com
jjderek@yahoo.com
Cheetah Cornhole
Pro 50, Pro 100, Elite Touring
www.cheetahcornhole.com
ericryder777@gmail.com
Crooked Cornhole
Crooked Classic, Crooked Pro, Crooked Elite, Crooked Slider
www.facebook.com/crookedcornhole
crookedcornhole@gmail.com
East Coast Cornhole
ECC-Pro, ECC-ProGlide
www.eastcoastcornhole.com
bob@eastcoastcornhole.com
Gunslingers
Twill, and swayde
www.gunslingercornholebags.com
NBeasley37@hotmail.com
Kramer Cornhole Bags
KCB
www.kramercornhole.com
kramercornbags@yahoo.com
LolliBags
Pro S Line, All Duck, Pro H Line
www.facebook.com/lollibagscornhole
Edwardsemb@yahoo.com
Local Bags
Local Raptor, Duck 450, Twill 450, Loco
http://www.localbagcompany.com/
chrispmeek@gmail.com
Meng Mor Bags
Meng Mor Pro, 6 x 6
www.facebook.com/meng.mor.52
â?­(336) 938-4560â?¬
meng.mor@yahoo.com
MN Tailgate
Pro Series
www.mntailgate.com
mike@mntailgate.com
Mountain Thunder
Mountain Thunder
www.facebook.com/mountain-thunder-cornhole
leatherwood36@gmail.com
MW Bags
Tactical Series, Performance Series
www.facebook.com/mwbags
dlprice2895@gmail.com
Original Cornhole Company
OCC 450, Xtreme Speed
www.originalcornholecompany.com
rayray85248@yahoo.com
Pro Z Bags
Elite 450C, Elite, Pro Classic
www.prozbags.com
sales@prozbags.com
Resin Bags
Fusion, Next Generation
http://www.resinbags.com
tossinggames@yahoo.com
Reynolds Bags
Pro Advantage, Pro Advantage Championship, Pro Edge, Pro Edge II, Competition, Pro, Pro Touch
www.reynoldsbags.com
jrsp69@hotmail.com
Rubie's
All Duck, Stick & Slick, Control, Humidity, Rain
www.rubiesbags.com
rubyscornholebags@gmail.com
Shawn's Top Quality Spinners
Personalized Spinners, Top Elite Spinners, Quality Spinners, Old Stamp Spinners
www.facebook.com
akahomiee@gmail.com
SoCal Cornhole
Razor Bags
www.facebook.com/socalcornhole
socalcornholeplayers@gmail.com
Stone Street
Pro-Series, Fire-Series
www.facebook.com/pg/stonestreetcreations
keithstevens01@hotmail.com
Steel City Cornhole
Pro, Competitor
www.steelcitycornhole.com
jrcastellano@steelcitycornhole.com
Throw'N Bagz
Pro Series One
thrownbagz.com
ben@thrownbagz.com
Tomcats
All Duck, Stick & Slide, Slick Kats
www.tomcatsproducts.com
tomkat24@sccoast.com
Venom Bags
Cobra 2.0
http://www.venombags.com
chris@venombags.com
West Georgia Cornhole
Bomber Bags
westgeorgiacornhole.com
sales@westgeorgiacornhole.com